Phishing
Phishing is a malicious tactic used by hackers to trick their victims into handing over valuable information.
Hackers spend a lot of time crafting clever messages that appear so realistic that you wouldn't think twice while looking at them.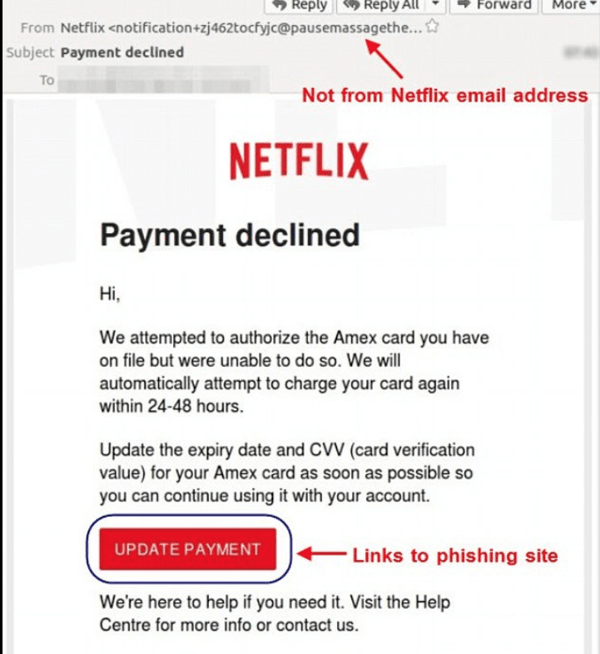 Image Source
Once the person who is being deceived has fallen for the attack, hackers can obtain what they were after; passwords, credit card information, direct access to your bank account, and even demands money.
Security Tip:
Educate employees on the risks of opening suspicious emails and clicking on links within emails that may ask for information that is confidential or downloading unknown attachments.
Credential Theft
Credential Theft is a rising epidemic that occurs when someone's proof of identity is stolen, be it physical or digital. When your credentials for one website are taken, it opens the door for your entire identity to be frauded.
Once an attacker has your usernames and passwords, they can sell them on the dark web or use them to compromise your organization's network.
Security Tip:
Consider a dark web monitoring service to be alerted when your personal information is detected for sale in dark web market places. For stronger account security, implement multifactor authentication and make use of password managers. Authentication that relies on a username and password alone is too fragile.
Cryptojacking
Cryptojacking is an exploit in its infancy. It's a method used by hackers to mine cryptocurrency from their victim's computers. Cryptojacking code sits on infected websites and advertisements, auto-executing once the code loads in the affected victim's browser.
The code goes to work in the background of the victim's machine. The only indicator it presents to the end user is slower performance. This nasty infection was found on big websites including Showtime Networks and UFC Fight Pass.

Cryptojacking malware was found on Showtime's video streaming website. It was present for at least three days in 2017.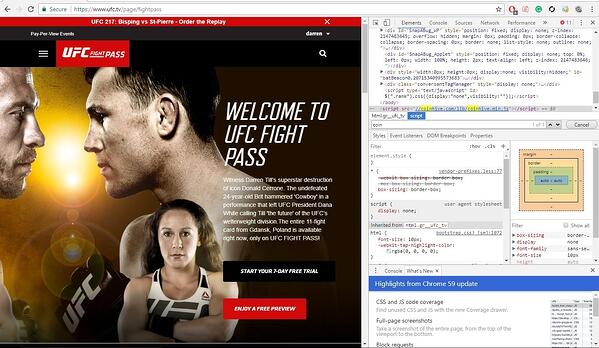 Subscribers to the UFC's Fight Pass streaming service posted screenshots on social media of cryptojacking malware present in the source code, though the UFC denied that the code was ever there.
Security Tip:
Protect against single points of failure in your security stack by using overlapping defensive systems; his includes endpoint, and email protection as well as firewalls and vulnerability assessments.
Unpatched Software
Unpatched software contains vulnerabilities that are exploited by hackers and is one of the most straightforward threats to manage. Commonly used programs like Adobe and O365 have vulnerabilities. When vulnerabilities are discovered patches are pushed out via software updates. The reluctance of end-users to update software and install patches can leave these vulnerabilities open for exploitation for far longer than they should be.
Security Tip:
Update your software when prompted and install patches. Many MSSPs also offer complete patch management services to keep you up to date and protected.
Targeted Ransomware
Ransomware didn't go away; it got more sophisticated and stealthier. Targeted ransomware can lock organizations out of essential systems and bring work to a halt. While these attacks are lucrative and sophisticated, the attackers aren't looking for a challenge. Get the security basics right to stay off their hit list.
Security Tip:
Give attackers a challenge. Lockdown RDP and assign user rights based on need. Implement overlapping layers of security on a well-segmented network.